For protecting corner and stair transition posts from cable abrasion. Fits ¼-in diameter drill hole. For wood and composite posts only. 10 pack 3210-PKG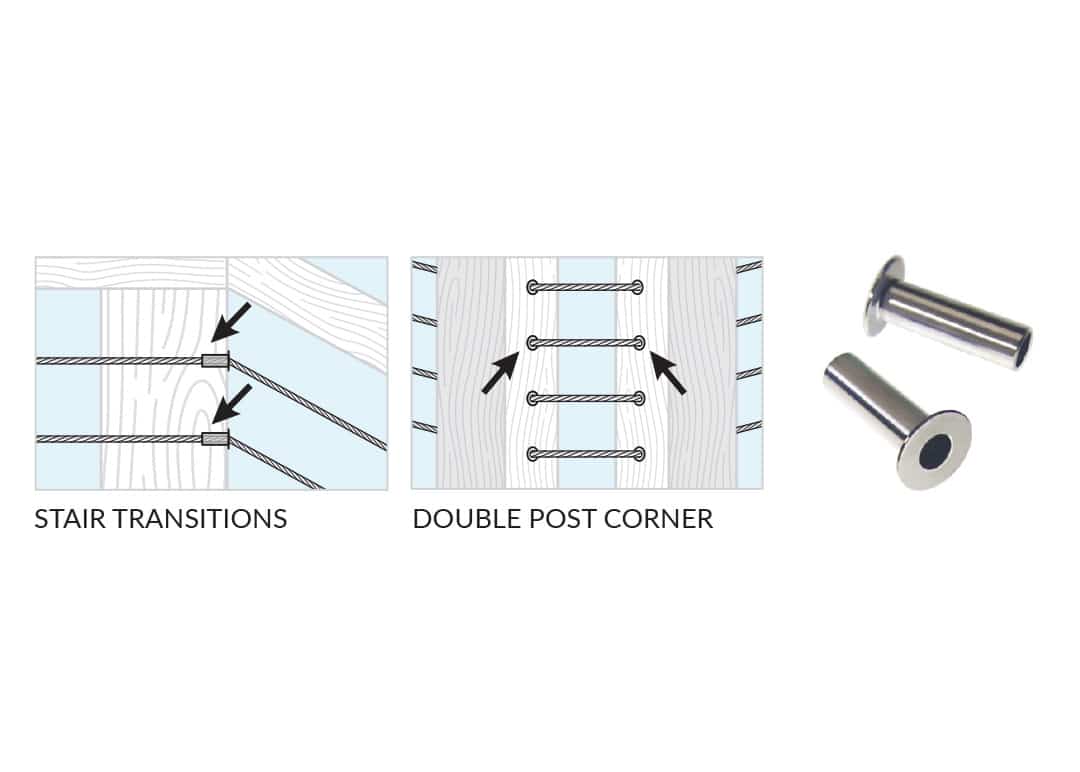 Beveled Washers (Stainless Steel)
For providing a flat bearing surface when attaching fittings at angled stair terminations. 32° angle to fit most stair angles (26° and 37° angles available as special order).
4 pack 3792-PKG fits Quick-Connect® Inset Fitting

4 pack 3799-PKG fits Threaded Terminals
Tools
Feeney's engineering team wants to make installation of our cable railing a breeze, so the developed specific tools to assist in installation of our products.
Cable Cutters
For shearing stainless steel cables.
2972-PKG


WARNING: This product can expose you to Di(2-ethylhexyl)phthalate (DEHP) which is known to the State of California to cause cancer and birth defects or other reproductive harm. For more information go to P65Warnings.ca.gov 
Quick-Connect® Release Tool
For releasing the Quick-Connect® jaws to remove or adjust fitting.
¹/8-in diameter cable 
3128-PKG
Cable Lacing Needle
For quickly lacing cable ends through posts without snagging.
¹/8-in diameter cable
3221-PKG
3221-CURVE-PKG

Wrench Wheel
An easy–to–use tool for tensioning Quick–Connect® Tensioner fittings that allows for continuous full rotation without requiring repositioning of wrenches.
6006-PKG
CableRail Tensioning Tool
Easy-to-use tool for tightening cables. Works on Quick-Connect® Inset fitting to efficiently pull cable through the fitting and maximize cable tension on long runs. 
6005-PKG
Hanger Bolt Installation Tool
For easy installation of hanger bolts used for Quick-Connect® Lag- and Pivot-style fittings.
3988-PKG
Multi-Tool
Five great CableRail tools in one! Includes tapper, stainless steel ruler/depth gauge, bubble level, release tool, and lacing needle.
MT-1/8
Stainless Steel Cleaner Kit

Clean and maintain all stainless steel surfaces, fittings, and cables.
Kit includes a bottle of SteelRenewal™ & SteelProtect™, applicator brush, sponge, and protective gloves. Non-toxic and biodegradable.
3988-PKG
 

WARNING: This product can expose you to Di(2-ethylhexyl)phthalate (DEHP) which is known to the State of California to cause cancer and birth defects or other reproductive harm. For more information go to P65Warnings.ca.gov