Start with a Blank Slate with our Visualizer
Design your dream deck from scratch. Just open the visualizer and select a starting template to get started.
CableRail Products in a Wood Frame
Working with a wood frame? No problem. See how our CableRail can work seamlessly with your project.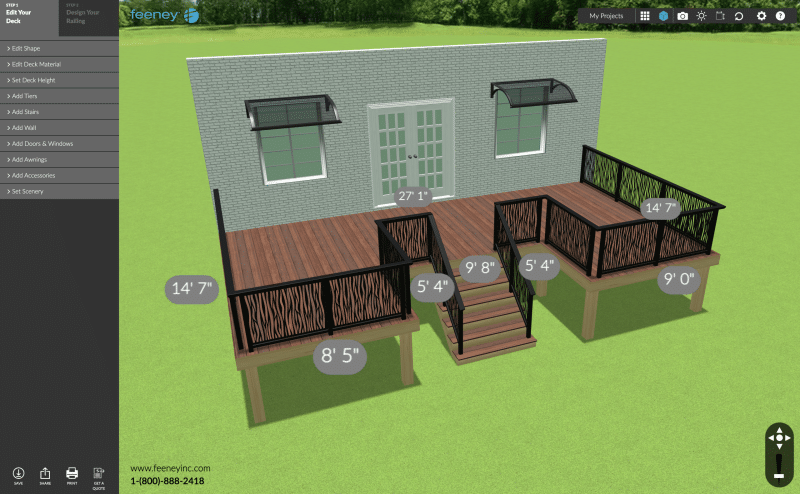 DesignRail® Aluminum Railing
See all of our DesignRail® Custom options come to life. Easily add lighting, infill, railing and handrail options.
Need Help Getting Started?
Feeney developed a quick walkthrough video to assist in understanding how to use this fun tool. 
Supported Browsers
Best performance is found using the 64-bit version of the latest modern, standards-based browsers: 
Chrome

Firefox 

Safari 

Microsoft Edge 
Note: Only WebGL-enabled browsers are supported. If you see a spinning cube on this website, your browser supports WebGL: https://get.webgl.org/. 
Hardware Requirements
For desktop browsers, it is recommended to have at least 8 GB system memory, or RAM, for good performance and modern graphics hardware (also known as the "video card" or "video adapter") for both 2D and 3D. Minimum requirements are a mid-performance graphics/video card with at least 512 MB of video memory. For the best performance, a graphics card with at least 1 GB of video memory is recommended, especially for working with larger or more memory-intensive 3D scenes. The better the video card, the better the resulting visuals. A high-performance, stand-alone graphics card typically has better performance than an integrated graphics card. To get more detailed information about WebGL requirements, visit the khronos.org WebGL wiki. 
Mobile Devices and Touch
Any capable mobile device should have a minimum of 2GB of RAM (4 GB is recommended), a powerful multi-core processor and graphics card, the latest Android or iOS version installed and support WebGL. The size screen may affect usability. Note: Many phones or older touch devices do not have the capability to support WebGL and are not supported.  
Internet Connection & Performance
As you work in the Feeney VisualBuilder, 3D data is loaded dynamically as you try new products and variations of those products. Low–speed internet connections will affect the speed and quality of the VisualBuilder performance and imagery while working in the tool. The number of other applications you have open that share your computer's resources is another factor that will affect performance. Try closing all unnecessary browser windows and programs to increase performance. As always, make sure your Windows or Mac operating systems and browsers are up to date. 
Internet Speed
You will generally meet the minimum requirements for using the Feeney VisualBuilder with the following internet speeds: Download speed: 5 Mbps Upload speed: 1 Mbps Ping rate: Less than 150 ms 
Wi-Fi
For online 3D experiences, hardwired internet connections generally work better than wireless connections. Wireless connections are more prone to interference, which can cause slowdowns and disruption or slight lagging effects. If a wired connection isn't possible, you'll get a good VisualBuilder experience with a strong Wi-Fi signal.