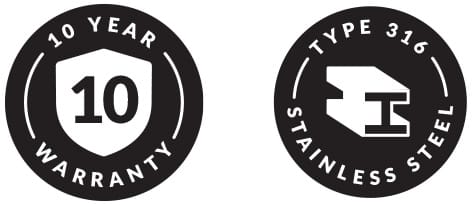 Build Them Right
Using our Quick-Connect® style fittings with automatic-locking jaws and our bulk cable, you can build your assemblies in the field. The cable end is simply inserted into the fitting and the spring-loaded one-way jaws grab and lock on. If necessary, a reusable release tool can be used to disengage the cable and remove or readjust the fitting. Each assembly must have at least one Tension Adjustment fitting.
Bulk Cable
All fittings and cables are manufactured from high-quality 316-grade stainless steel for weather-tough durability, ultra-low maintenance, and lasting beauty.
Bulk Cable – 1/8″ diameter 1×19 cable construction is available in various lengths for use with CableRail fittings.
Lengths:
| | |
| --- | --- |
| Length | Part # |
| 100-ft | #5100 |
| 250-ft | #5250 |
| 500-ft | #5500 |
Quick-Connect® Surface Mount
9903DL-PKG
Fixed end fitting that attaches to the face of a post or wall with the included screws or bolts. 130° pivot range allows for angled stair terminations. Includes 2″ lag screws for wood posts (1/2″ bolts for metal posts sold separately).
Quick-Connect®
Surface Mount Tensioner
9913DL-PKG
Surface Mount fitting with a special swiveling body that allows 3/4″ of take up for cable tensioning. Includes same hanger bolts as Surface Mount fitting.
Care and Maintenance
Feeney offers comprehensive care and maintenance documents categorized by material: one for stainless steel fittings and cables, and another for powder-coated aluminum products.
For best protection of CableRail, Feeney recommends using SteelRenewal™ and SteelProtect™, a stainless steel cleaner and protectant kit combo pack to help maintain your stainless steel surfaces.